Team building events are crucial for every company that wants to build a cohesive and productive team. Finding the right team-building activity can be a challenge, but custom live game shows are becoming more and more popular as the ultimate team-building tool.
These custom-made game shows create an atmosphere of fun, friendly competition, and camaraderie that brings colleagues together in unique ways. In this blog post, we will explore the benefits of having a custom live game show as a team-building tool, why it works, and how it can benefit your company.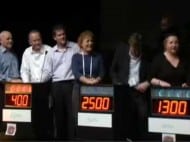 1) Creates a Fun-Filled and Engaging Environment
Custom live game shows have an undeniable power in creating a fun-filled environment. When employees participate in custom-made game shows, they are participating in something that they genuinely enjoy. It's a break from the mundane daily routine of office work and adds a sense of excitement to the workplace. The games are designed to be interactive, engaging and entertaining, allowing employees to let their guard down and be themselves.
2) Builds Rapport and Communication
Having employees from different departments compete against each other in a custom live game show will likely enable them to exchange and build productive communication that they might not have had before. The custom live game show bridged the gap of plain office protocols. This creates a ripple effect that improves the company's overall environment, resulting in a more productive and collaborative working environment.
3) Encourages Participation and Engagement
Custom live game shows are interactive, and they have the power to tap into people's natural instincts of wanting to compete, which encourages participation and engagement from all members of staff. When different teams come together, usually from different departments, it creates a sense of competitive spirit that pushes everyone to get involved. With every employee engaged, the experience is much more enjoyable overall.
4) Build Deeper Relationships
Team building activities create bonds between employees who might not have worked together before. These games also offer an opportunity for some healthy competition that is not harmful, which often translates into team members building stronger relationships as they participate in the game show. This kind of experience will leave a lasting impression and inevitably transform the workplace atmosphere and dynamic.
5) Brings the Company Together
Team building activities such as custom live game shows bring together people from all levels of the company. Rather than focusing exclusively on teamwork within departments, it brings people together and emphasises that there is benefit in working together as a full team for the betterment of the company. This kind of experience ultimately promotes healthy competition, camaraderie, and team bonding, which is exactly what your company needs.
Conclusion:
The benefits of custom live game shows as the ultimate team-building tool cannot be overstated. This activity has become the go-to tool for event organisers, EAs, party planners, PR executives, and companies worldwide. Structured, efficient, and incredibly fun, it provides just the right amount of feedback, as well as creating a memorable experience. A custom live game show offers the perfect opportunity for everyone to build deeper friendships, communicate effectively, and create memories that will last for years to come. Host your custom live game show and allow your team members to connect in a unique way that they never thought possible!
View our team-building show packages here.