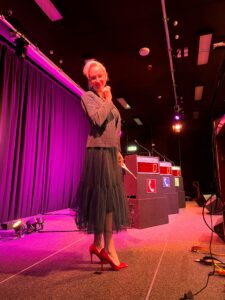 Gone are the days when game shows were exclusively hosted by men in suits. We support and encourage the rising trend in the corporate world to have professional female hosts for events, and there are none better than our female hosts. There are many talented women out there who can bring an intelligent and entertaining spark to any event, but we'd like to introduce you to our female hosts.
Not only professional entertainers in their own art forms but impressive corporate leaders as well. The best part is that they know exactly how to engage the audience, crack jokes, and make sure everyone is having a good time. If you're planning a women's conference, party or any other event, it's time to consider having a female host for your corporate game show. Here are some reasons why.
1. Representation Matters in Women's Conference Entertainment
For far too long, women have been underrepresented in various industries, including Game Show entertainment. But now, things are changing for the better. Our promotion of female hosts in our corporate game shows is a great step towards representation and diversity. Not only does it create a positive image for the corporate world that celebrates women, but it also sets a great example for young girls who aspire to be in the entertainment industry or the corporate field.
2. A New Perspective
Game shows, whether they are for entertainment or corporate events, can be unpredictable. That's why you need someone who knows how to handle the twists and turns and bring a fresh perspective to the table. With our female hosts, you can expect a unique and innovative approach to the game show, which will make your event more engaging and memorable.
3. Making Everyone Feel Included
If you're organising a women's conference or any event aimed at women, it's important to have a host who understands your audience and can connect with them on a deeper level. A female host can make everyone feel included and create an atmosphere of inclusivity where everyone feels comfortable participating in the game show.
4. Balancing Humour and Professionalism
Game shows are all about having fun and being entertained, but that doesn't mean you should compromise professionalism. With a female host, you can achieve the perfect balance between humour and professionalism. Our female hosts are known for their ability to be witty and charming while keeping the game show on track. They can also handle unexpected situations with grace and ease, ensuring that the event stays on schedule and on brand.
Conclusion:
In conclusion, having a female host for your corporate game show is a game-changer. It's a great way to bring some entertainment, fun, and diversity to your event. By including female hosts, you are not only creating an inclusive environment but also setting a positive example for young girls who might want to pursue a career in entertainment. So, next time you're planning a women's conference or any other event, consider hiring a professional female host for your corporate game show and see the difference it can make!
Let's be real, though; our game shows bring life and excitement to any event. Having an outstanding female host for a women's event just seems right!
For more information on our Game Show Packages, click here.