Corporate Christmas Party Entertainment
So, it's that time of year again and you've been tasked with finding entertainment for your work Christmas party that will engage and entertain everyone.
Whether you always book entertainment for your work Christmas party, or you've just been tasked with this for the first time, the choices can often seem overwhelming.
Firstly, you don't want to book the entertainment you booked last year – Unless of course, that form of event entertainment has entirely different shows…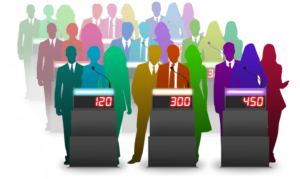 The hardest part of planning your end of year corporate event is finding something will engage everyone. Bands can be a tricky choice as everyone's taste in music varies. Roving entertainment is fantastic for breaking the ice at the beginning of the evening, but not so much as a feature show, and as for the main event, what can you possibly book that most of your guests have not experienced before?
Fortunately, we have the answer right here!
Our corporate game shows were designed and created by expert corporate entertainers and have been refined over the years to bring you the most engaging, fun, and unique entertainment experience yet.
Audience participation is the key to making your office Christmas party or end of year celebration both memorable and fun. One reason why these shows are repeatedly booked is that your guests become the stars of the show, and because they're often playing in teams they tend to drop all inhibitions and have the time of their lives.
How popular could a TV-style game show be?
There's a good reason why TV game shows have run non-stop for decades. Virtually since TV stations began broadcasting, game shows have been a fundamental part of our nightly entertainment.
How often have you ever watched a game show and thought how much fun it might be to take part in one? Well now is your chance, with ZERO humiliation, and loads of fun.
What makes these shows even better is that fact that they can run with your theme, include information about the company or even your co-workers, making it secretly also a BRILLIANT team-building tool.
Take a look at our Classic Game Show Package and join the many high-profile corporate clients who have booked and re-booked our game shows year after year and book your end of year Christmas party entertainment today!